When I moved up to New Mexico my mom gave me 2 tv trays. It started out as a set of 4, but well over time ( 15 years or so) they lost 2. They are a basic honey colored wood but had lots of stripping on the top just from use. I told the hubs I wanted to paint them, originally I was just going to paint them a solid color and be done.... But what fun would that be?
A few months ago I decoupage a chair and my end table/tv stand. I thought I would do the same with these.
I decided to paint ( ok the hubs painted) the trays with Krylon spray paint Khaki color. Ok a tiny plug, and no Krylon didn't tell me to say this, Krylon has the best spray paint and super low odor after drying. Plus a nifty nozzle that you can adjust to be vertical or horizontal. Anyway commercial over. I had him just barely paint the top mostly so the the glue would stick. Ok so on to pictures and a small tutorial.
Here are the 2 tables painted and ready to go.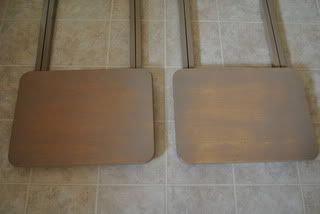 Here are the scrapbook sheets I picked up
I cut them into strips, I did this freehand as I wanted them to be different sizes and shapes. You could of course make perfect squares by measuring or using a paper cutter, which I don't own.
As you can see different size squares.( i had some paper from the chair project that I cut up and used as well)
Mod Podge and a foam brush. Essential items. I got gloss, but you could also use Matte.
You want to work in small sections since the glue will dry quickly. Also be careful of touching the paper a lot. It can get dirty/torn especially the wetter it is.
* forgive my awkwardness since I am right handed, but i can't use my left hand to shoot.* Spread the glue with your foam brush now here you can either put the paper down directly onto the glue or as I recommend put some glue on the paper to make sure the edges and corners will stick.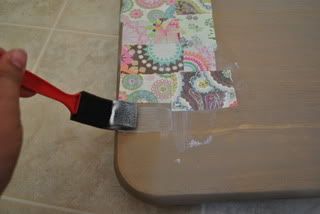 [make sure to place a layer of podge over your just placed paper ( or you can accumulate a few) to keep it in place till it dries. Sometimes skipping this step can lead to curled edges and such. ]
Continue working however you like. I did an overlapping pattern since my pieces weren't cut perfectly.
and viola. finished project.
*tips* Mainly if you never worked with Mod Podge, its both a glue and a sealer/finisher. When you are done with your project you simply spread a layer of podge over the top and let dry completely.
Don't use a ton of glue as it will start to make your paper soppy and can seep out the sides and create a mess. Remember to smooth any bubbles out of the paper ( not usually an issue if using small pieces like in this project but in a larger pieces can be an issue) When you put glue over the top of your project remember to use nice smooth strokes it will keep the glue from pooling or creating a weird finish, and yeah that can happen.
Its water soluble so it ( in theory) can be washed off from hands and clothes.
So total cost of this project. $21.62 ( this includes tax)
Broken down before tax:
Paint was 3.47 per can and I bought 2 cans. $6.94
Scrapbook paper large sheets were .59 per sheet I bought 7. $4.13 for all 7
Scrapbook paper small sheets were .29 per sheet I bought 4. $1.16 for the 4
Foam brushes a pack of 4, $.99
the mod podge was the big spender at $6.99 for the large bottle.
Not bad I know. Now the cost can even be lower, for instance if I could have found my other bottle of mod podge ( now MIA) and hadn't used all my brushes from my last experience that would have saved money. I also bought more paper than I actually needed ( since I had some left over from a previous project) but I know I can use it in a later project.
This is a great type of project if you want to keep costs low and just want to repurpose some old furniture you have laying around.
Let the creativity begin!!