I haven't taken many pics lately, and these aren't even all the plants that I have looming around my yard, but what can I say. It's hot, smells like campfire outside, and the wind is blowing ruining perfectly good macro pics. I'm just whining don't mind me. lol
At any rate so far things are progressing nicely. I've lost a few things, all my tomato plants from my mini greenhouse died as did my dill, snap dragons, lupins and chinese lantern. :( its hard to say, what killed them, maybe the smoke, the wind, the heat. boo.
So here's what's left.
my little patch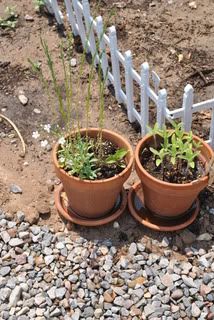 the pot on the left is my mystery plants. They are from the butterfly hummingbird garden mix I had picked up at Target for a buck. On the right, sunflowers.
Lily of the Valley, the peony i think is a lost cause, it has pretty much done nothing and looks exactly the same as the day I planted the root.
My cilantro, I have no idea what happened to it, it was doing beautifully, I went to my parents and came back it looked like this. Sad Panda. I did have a neighbor kid watering my plants, so I really have no clue why it looks this bad. :(
This tomato plant gave me trouble but it has a tomato. so far so good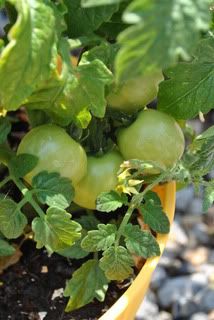 my cherry tomatoes, turn red already!!!!!!!
I think these are beefeaters. not sure though.
here are my zucchini and summer squash. If I don't get any bees though I will have to pollenate them myself. hmph.